Seems like RPG-style reward and unlock systems are working their way into just about every genre these days. 2007 felt like a turning point to me; it was then that Call of Duty 4: Modern Warfare hit the market and showed just how addictive a multiplayer shooter can be when it has experience point rewards for effective play and a range of unlocks to spend the experience points on. Now it's hard to find a mainstream multiplayer shooter without a persistent character progression system.
Playing a character who grows in ability over time, from a bumbling novice to a demigod, has been a trope of RPGs since the progenitor, Dungeons & Dragons, appeared in the 1970s. D&D's tactical, turn-based combat system for the tabletop laid a foundation for a genre close to my heart; a genre that arguably started a decade later when the Fire Emblem series began in 1990 and became the archetype for what is now an established genre: the Tactical RPG (TRPG) or, as it's called in Japan, the Simulation RPG (SRPG).
TRPGs are turn-based strategy games leavened with characters that advance and persist between battles. Though superficially similar to JRPGs in storytelling techniques and advancement systems, the desultory combat systems typical of JRPGs are replaced with significantly more weighty TBS-style battles, which can take a half-hour or longer to complete. For the purposes of making analysis easier, let's take a look at the iconic TRPG, Final Fantasy Tactics to lay the groundwork for future analysis.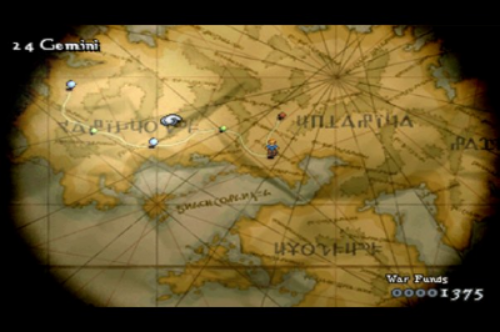 Final Fantasy Tactics, like most modern TRPGs, features an overworld which mainly displays a battle selection screen. The menus accessible on the overworld allow the player to manage many of the persistent aspects of their roster of characters: distributing rewards granted during battle by unlocking new abilities and giving characters equipment. The character advancement system is complex: there are over a hundred unlockable abilities that the player can equip to characters. Character progression in Final Fantasy Tactics, as is typical of TRPGs, is complex in the sense that there are many characters to manage and/or there's a complex skill tree toclimb per character. There's also equipment restricted to only certain classes that can grant significant statistical advantages and new abilities.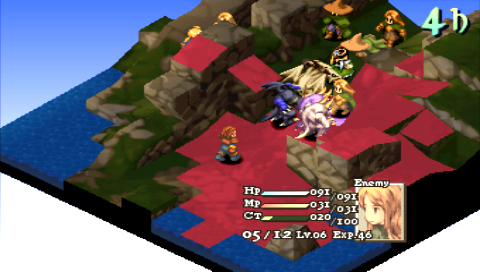 Once the player is done managing their character's growth and equipment, they pick a battle from the overworld map. Then the player must choose a team of 1 to 8 characters, in addition to the main character, to bring to the fight. Once the player's team is locked in, they fight in a turn-based battle against enemy characters and beasts in an attempt to fulfill some victory condition, which is often killing all enemies or a specific enemy. Victory grants equipment and monetary rewards as well as unlocking additional battles, defeat means game-over.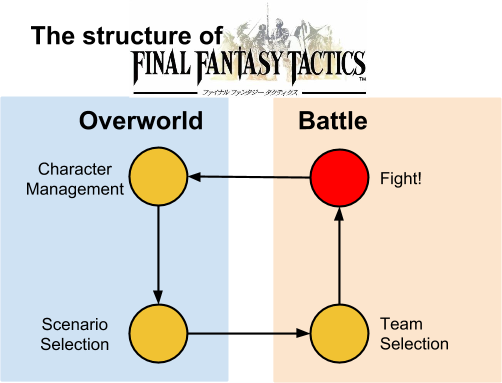 The gameplay of Final Fantasy Tactics, and TRPGs in general, thrives when it features:
[Design Space] A variety of characters that provide different strategic options, both solo and in combination.

[Level Design] A variety of mission scenarios which require the mastery of many techniques using different characters and abilities.

[Upgrade / Economy] An advancement system where players can tailor their characters to fill different roles and take advantage of various combinations of enemies and terrain.
Final Fantasy Tactics is a very complex game that shows many of the benefits and pitfalls of character advancement systems and reward systems. Feedback loops between battle and overworld, combined with class balance issues and some level design decisions almost caused me to stop playing. In the next articles in this series I'll break down the genre conventions that lead to these kinds of issues, while also diving into specifics about Final Fantasy Tactics dynamics that make the game so appealing.