POV: DESIGNER.  DIFFICULTY 3.  LEVEL 3 – 1
It's time for the judge to be judged. We've nearly come to the end of our Vlambeer Scale article series. So far we've used the Vlambeer Scale of Quality to measure the Vlambeerian game feel of Ridiculous Fishing, Ninja Fishing, and an upcoming indie game called Downwell. Now the question is how do Vlambeer's games measure up?
The following is a list of Vlambeer's games in chronological order and some of the points from the Vlambeer Scale of Quality that each game does not have.
Super Crate Box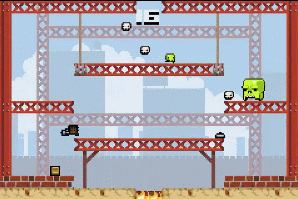 Muzzle Flash, Impact Effects, Enemy Knockback, No level of permanence, Lerp (no camera manipulation at all), Sleep (only for katana), Strafing

Serious Sam: The Random Encounter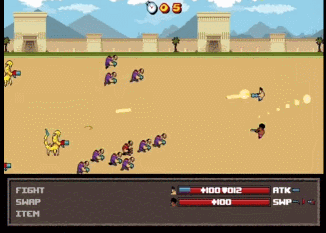 Enemy Knockback, Level 2 and 3 permanence, Player knockback, Sleep, Gun delay, Camera kick, Meaning

Ridiculous Fishing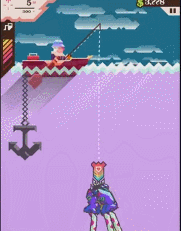 Hit Animation, Player Knockback (guy is in a boat), Strafing

Luftrausers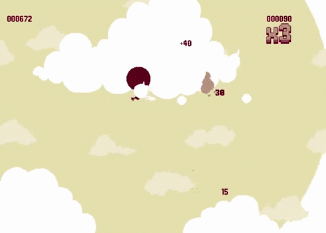 Less Accuracy: No random spread with "Spread" weapon, Hit Animation,     Enemy Knockback, Player Knockback (you are a plane), More Bass

Nuclear Throne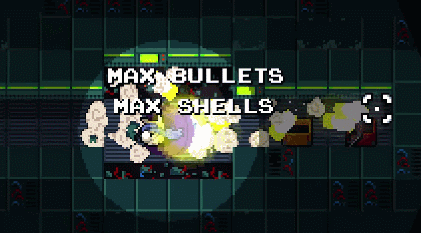 Random explosions, gun kickback, Player knockback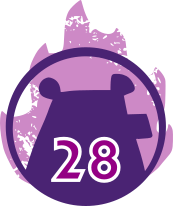 Marcus says:
Nuclear Throne The highest scored Vlambeer title with a 28 out of 31. It's also the highest game of all the games we've scored!

Not every game has guns to fire to create camera kick or recoil. Some games seem to start off not even being able to to achieve a perfect Vlambeer Scale score. However, with a little creativity "gun based" elements of game feel can be applied to just about any action. Just look at what

Death Note does to the action of writing down names on a piece of paper

.

Player Knockback is only in Vlambeer's first game Super Crate Box. In general, player knockback makes platforming gameplay more difficult. Most players want to push ahead when they get hurt like in Mario, rather than worry about how they will be pushed back like in Mega Man. Likewise, they want their gunshots to not affect their positioning.

Nuclear Throne is the only game with 3 distinct levels of permanence: bodies, bullet casings, and level destruction.

The element of "meaning" is in every Vlambeer game but the first two. Perhaps this is a lesson they picked up as they continued to create games. Whether from thematic setting or bits of story, a little meaning goes a long way.

Luftrausers embraces common tropes of flying combat games, which weakens its score.

With the most complex movement out of all the games, Luftrausers is about balancing moving with dodging and aiming.

To match the style of shmups, the bullets travel the slowest compared to the other Vlambeer games. Also, there is no random player bullet spread.

Luftrausers does not feature a heavy bass component. Keeping the soundscape in a higher register makes Luftrausers sound more like old arcade games.

The three avatar-based shooting games scored higher.

Serious Sam is the only game with "random" explosions. The random explosions come from firing into a large mob of enemies and hitting the "bomb" guy.

The three games with strafing achieve it in three different ways.

Strafing in the only MOVE mechanic in Serious Sam as the player characters are always running on their heels up and down the right side of the screen.

Strafing in Nuclear Throne is possible because the aiming is independent of a character's movement.

Strafing in Luftrausers happens due to the inertial systems when the nose goes one way and the tail the other.
Richard says: back in 2010, I wrote a blog post on Super Crate Box on Critical-Gaming. Here are three points I made. Key words are bolded and Vlambeer terms are added in brackets where appropriate:
…because of the high game speed, it's more difficult to judge the hitboxes and other interactions in the game. Sometimes I thought that I dodged an enemy, but I died. Other times I survived without being able to see how. And because the game doesn't

pause [sleep]

(even slightly) when you die (like in Super Mario Bros or

DKCR

), sometimes the exact cause of your death is mysterious. Or my difficulty in understanding the interactions could be due to the way the hitboxes are designed. Either way, I feel that something should be tweaked.

[Super Crate Box has] excellently tuned weapons with an excellent coverage of the design space.

Nice sound effects

and

unique feel

created by

screen shaking

and other

visual effects

.

The 3 enemies and their

speed upgrades [faster enemies]

create just enough contrary motion that layers together nicely to create varied challenges.
Looks like the game feel of Super Crate Box is an important part of the experience and an important talking point. After all, I wrote this 5 years before we started the Vlambeer Scale of Quality here at Design Oriented.