A retro "review" of The Misadventures of Tron Bonne by Jeremy Parish from USgamer.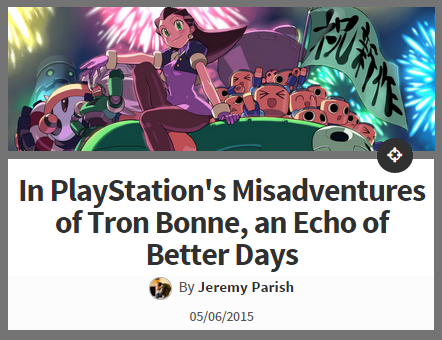 Marcus Says: I really enjoy how Parish detailed the The Misadventures of Tron Bonne's genre conventions. Parish did it in a way that didn't rely on technical jargon. Instead of focusing on rules, systems and mechanics, he explained how the story and feel of the game is a spin off of a spin off, which reflects its oddball gameplay. Parish's approach reframes expectations. Instead of describing how some mechanics fall short of genre standards, he focuses on how the mechanics enrich the aforementioned story and theme of this misadventure.
Richard Says: I need to take writing lessons from Parish. The writing flowed so nicely. I feel like I have a really good idea what kind of game and experience Tron Bonne is, and I don't think watching a let's play would give me a clearer picture. The article overall is more of a summary and review than a critique, but the few statements made clear: "The mission, puzzle, and adventure stages may have been fairly small, but they rewarded experimentation with all sorts of funny and surprising Easter eggs" Also, +1 point for Sokobon puzzles.